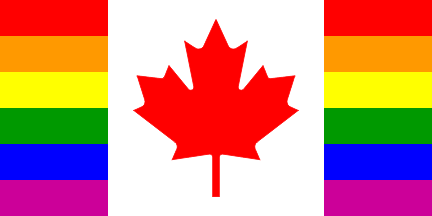 M
any
of us have been shocked and saddened by the tragic deaths of gay youths that have resulted from homophobic bullying these past couple of weeks in the United States.
As Montreal Simon points out
, the problem of bullying and harassment has received far less attention here in Canada. This is not because there is no problem. Recent data being collected in Canada on homophobic bullying in schools shows results very similar to those in the USA.
High schools are "the land that time forgot" in the ongoing battle to eradicate homophobia, laments University of Winnipeg education and communications Prof. Catherine Taylor.
"It's a non-issue for so many people these days. They don't recognize how bad the situation is for so many people," said Taylor. She and University of Manitoba sociology Prof. Tracy Peter are conducting a national survey on homophobia in schools.
"Kids are being tormented and terrorized, and very little is being done about it," she said.
Taylor says the findings of their first phase are not surprising -- the vast majority of gay and lesbian students who responded to the survey reported verbal homophobic attacks in their high school, sometimes physical abuse...
Some of the key findings are:
3/4 of LGBTQ students feel unsafe in their schools;
Over half of LGBTQ students are exposed to homophobic slurs on a daily basis;
34% of LGB students and half of transgender students reported that staff never intervened in response to homophobic comments;
Current students are more likely than past students to hear homophobic comments;
Victimization stats are high: 6/10 LGBTQ students reported being verbally harassed, 1/4 LGB students had been physically harassed about their sexual orientation, and 2/5 transgender students and 1/5 LGB students had been physically harassed about their gender expression;
Unsurprisingly, over half of LGBTQ students do not feel safe or accepted in their schools.
We in Canada like to think we're better than the USA. Because we have LGBT in the military, and same-sex marriage and adoption, straight Canadians think we don't have serious problems with homophobia. We cannot allow ourselves to become complacent, to accept "better than the US" as good enough. For many LGBT youths, life is not substantively better in Canada than it would be in the USA; they still face harassment and indifference.
You can do something to help
Egale Canada - a national organization dedicated to LGBT rights - is running
a Safe Schools Campaign
. Visit the website, sign the petition, contact your minister of education, donate, tell your friends.
On the page describing the National Climate Survey
, it was noted that Catholic schools have not agreed to implement phase two of the survey, so if you are in some way connected to a Catholic school, contact the administration and school board and let them know you support participation in the survey.
Act today
to get Exodus Global Alliance's (an organization that attempts to "cure" gay people) official charity status revoked in Canada.
Resources for LGBT youth - visit their websites to find out how to volunteer
Kid's Help Phone:
1-800-668-6868
Support for kids facing all kinds of problems.
Youth Line:
1-800-268-9688
Support for LGBT youth.
Rainbow Youth
: Online resources and organization